In the News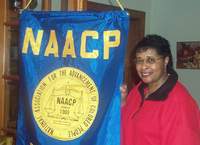 Verdier's Challenge: What can we do in spite of racism? (Star-Gazette Newspaper article February 9, 2006)
JEFF MURRAY/Star-Gazette
Georgia Verdier, president of the Elmira-Corning branch of the NAACP, said she's been involved in the organization "as long as I can remember."

The National Association for the Advancement of Colored People was founded in 1909 by a diverse group of individuals concerned about racial equality and race relations in America. It is the oldest and largest civil rights group in the country. The Elmira-Corning branch of the NAACP was established in 1919. Georgia Verdier of Corning has been president of the local chapter since the late 1990s. Star-Gazette staff writer Jeff Murray interviewed Verdier for this feature.
Question: How did you get involved in the NAACP?
Answer: I'm an NAACP baby. Most of my family in Indiana were life members, so we were grounded in that. So I have been involved for as long as I can remember.
Q: Who can belong to the NAACP?
A: People come in all colors. The NAACP can embrace all. Our mission is geared toward mankind. A lot of our members are Caucasian. We have people from all walks of life.
Q: What does the local chapter do to promote racial equality and harmony?
A: We have numerous committees that address what the national organization asks us to focus on. They are education and youth, health, legal redress/criminal justice and political activism. We happen to live in a very education- oriented community. We do a lot of programs in terms of education.
Q: How many members do you have, and do you need more?
A: We have about 300 members. Membership is the lifeblood of an organization. That comes before fundraising. We never forget whence we came and what got us here. Membership is key.
Q: You have a full-time job with the state Office of Mental Health. How much time do you devote to your duties as NAACP chapter president?
A: I try to keep those separate. I keep this business off-site so nobody can accuse me of doing this business on the job. I spend about as much time on this organization as I spend on my job. There's a lot of night work. I'm committed. You lead by example. If you take on a role like this, you give it all you have.
Q: Is there still racism in America and in our area?
A: I can say this - racism and discrimination have been here as long as we've been here. My challenge is what are we going to do in spite of it.
If each of us becomes the best we can be, maybe we can wipe out some of the hatred. It's still alive and growing in some places. Racism is so ingrained, it's almost part of the fabric of society.
Q: Who are your favorite role models?
A: I see Oprah Winfrey as a good role model. Oprah has done some magnificent things. Tiger Woods is doing a lot with his foundation. There are a lot of athletes who have set up foundations.
Just for fun:
Q: When you aren't juggling your job and NAACP duties, what do you like to do in your leisure time?
A: I like to travel. So when I get away, I do leave my agendas behind. I don't take work with me. It's just healing time. I'll go anywhere. I was able to go to South Africa. I was there for the 40th anniversary civil rights march in Alabama. You just say to me "Let's go," and I'm ready.
Q: What else do you enjoy?
A: I enjoy working with young people. I get a lot of joy out of that. Even though it's work, but it's pleasure for me.